Dumpster Rental in Woodstown, NJ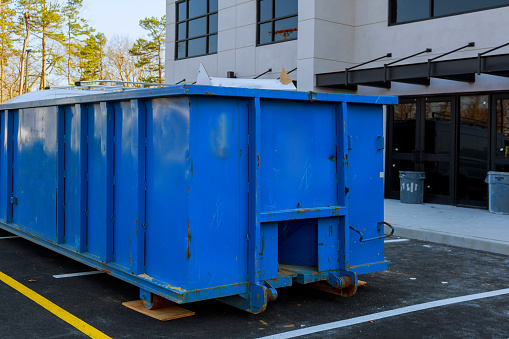 If you are in need of a dumpster rental in Woodstown, NJ that is both affordable and flexible for your needs, contact Starr Dumpster Rental. We are a local company that provides first class dumpster delivery for your cleanout needs.
Starr is located a short drive away from Woodstown in Franklinville, NJ, and our family of companies has served area businesses and South Jersey residents since our founding in 1984.
Our dumpster rental services are ideal for your needs, whether it's a cleanout of your home that turned out to be larger than expected, or you're overseeing a Woodstown construction project. Choose from several different sizes, including 11-yard, 12-yard and 14-yard dumpsters. Not sure if you need a larger one or not? No problem! At Starr, we charge by weight rather than dumpster size, so your costs are the same no matter what size dumpster you choose. Go ahead and take the larger one if you think you might need it.
Best of all, our rates for Woodstown, NJ dumpster rental are as competitive as any in the region to move your waste. For two tons or less, we charge just $350 for a 5-day rental (plus NJ state sales tax). For each additional ton, your additional cost is just $80. Don't need a whole week for dumpster rental? Ask us about discounted rates for rentals of 48 hours or less.
Starr Dumpster Services is part of Starr General Contracting, founded by Charles F. Starr Sr. Charles Sr. ran the business successfully for nearly three decades. Today, Starr General Contracting and its divisions are run by his son, Charles F. Starr Jr. Charles continues in his father's tradition of quality workmanship and customer service that has made the business successful for over 25 years. We're still today a family owned local company, and we're dedicated to our neighbors in the South Jersey community.
About Dumpster Rental in Woodstown, NJ
For inexpensive and convenient Dumpster Rental in Woodstown, NJ, Starr is your easy choice. Call us today at (856) 875-5020 to ask about our availability today, or use this form to e-mail us. Be sure to ask about our other services too…including septic services, portable toilet rental and much more. At Starr, we offer quality workmanship at a fair price.
Note: Starr does not allow certain types of waste in our dumpsters due to EPA regulations. For this you will need a specialized service. Restricted forms of waste include:
Hazardous materials, including chemicals, synthetics and insecticides
Asbestos
Tires made from rubber or synthetics
Electronic household devices (TVs, PCs, and other electronic.)
Refrigerants