South Jersey Construction Dumpsters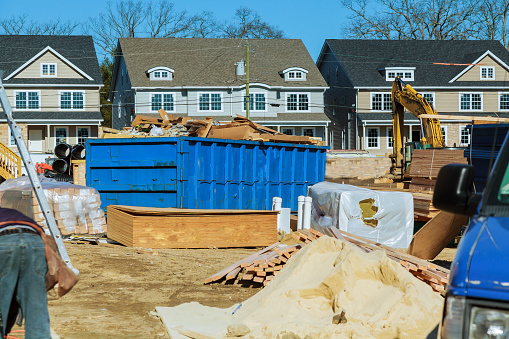 Starr Dumpster Rental is your solid local choice for South Jersey construction dumpsters. We are based in Franklinville, and we provide dumpster rental services throughout Gloucester, Atlantic, Cumberland and Salem Counties. The Starr family of companies has been proudly serving South Jersey since 1984.
Construction projects inevitably create massive amounts of waste, and very often the volume of that waste turns out to be larger than expected. If you're in charge of such a project, our dumpster rental service is ideal for you. For weekly (5-day) rentals, choose from our 11-yard, 12-yard, and 14-yard dumpsters, and there's no need to worry about the size. Our rates are based on total tonnage, not dumpster size…so feel free to ask for a larger one if you think you'll need it.
Our dumpster rental rates are affordable too. We charge just $350 (plus NJ sales tax) per 5-day rental for waste totaling two tons or less, and it's just $80 plus tax for every additional ton. If you think you can get the job done in 48 hours or less, let us know! We offer discounted rates for short term rentals; you can have your waste removed at a very low cost.
Don't forget to ask about Starr's other services too! Starr Dumpster Rental is a division of Starr General Contracting, a family-owned local business since 1984. We offer commercial construction services, septic services, portable toilets and much more for residents and businesses throughout South Jersey. The big blue star at Starr General always means quality workmanship at a fair price.
Request Your South Jersey Construction Dumpster Rental Today.
When it comes to conveniently located, inexpensive South Jersey construction dumpsters, Starr Dumpster Rental is your destination. Call us today at 856-875-5020 to ask about availability, or click here to contact us online. We'll get back to you soon with the information you need.
Note: Our South Jersey construction dumpsters are as durable as any in the region, but we cannot allow certain types of waste. The items below require a specialized service:
Hazardous materials (chemicals, pesticides, etc.)
Asbestos
Tires (rubber)
Electronic components (TVs, PCs, etc.)
Refrigerants