Mantua Dumpster Rental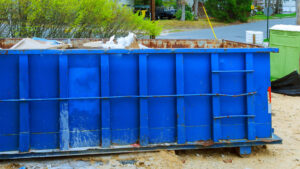 Are you a homeowner planning a big garage or yard cleanout? Is your construction company in need of convenient garbage and material removal? If you have a need for affordable Mantua dumpster rental, Starr Dumpster Rental is your convenient, reliable choice.
We are located just a short drive away in Franklinville, and we carry dumpsters for construction, business waste and residential needs for our customers throughout Gloucester County and South Jersey. (You can view our delivery map here.) Starr offers dumpsters in several sizes and at rates as affordable as any in the region. We are fully licensed and insured in New Jersey.
Starr Dumpster Rental is part of the Starr General Contracting Group, a family owned organization that has been serving the needs of South Jersey businesses and residents since 1984. Starr General Contracting's wide range of services include construction, home painting and roofing, portable toilet rentals, and septic system installation and repair. Our growth over the years in many fields is because customers trust the big blue star for quality workmanship.
OUR Mantua DUMPSTER RENTAL SIZES
For Mantua dumpster rental, we offer dumpsters in 11-yard, 12-yard and 14-yard sizes. We charge for our rentals by the ton rather than the size, so our rates are the same for all sizes. At present, the rate is $350 per week for two tons of waste; for larger amounts our charge is $80 per additional ton. Be sure to ask us about our discounted rates for time periods less than 48 hours.
Our dumpsters are sturdy and reliable and can carry most any type of waste, but unfortunately we cannot rent dumpsters to carry hazardous waste, asbestos or chemicals at this time. Please see about specialized rental services for these types of waste.
Best of all, you're getting the benefit of working with a local business, as opposed to a large national chain that doesn't value its customers and treats you like a number. The Starr family has been in the business for nearly forty years and two generations, and our customers know that they can trust us to provide personalized service.
Whenever you need reliable dumpster rental service in the Mantua area, call us at (856) 875-5020 or use this contact form to ask about availability. At Starr Dumpster Rental, we're ready to move your waste away for a fair price.