Dumpster Rental in Bridgeton NJ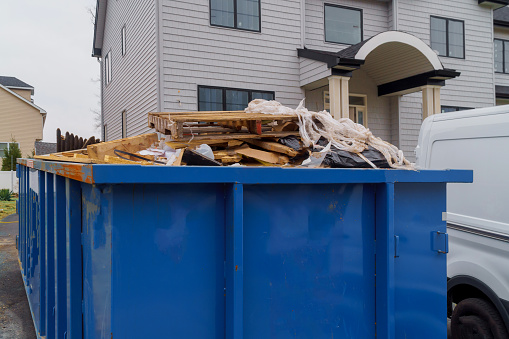 Starr Dumpster Rental offers dumpster rental in Bridgeton NJ that is locally based and affordable. We are a division of the Starr family of companies in nearby Franklinville, and we provide residents and businesses with mixed material construction dumpsters throughout Cumberland County. We rent for rates as low as any provider in South Jersey, so contact us today and ask about our availability for your next project.
Whether you're cleaning out a home or garage, need to rid yourself of trees branches and shrubs, or need to move debris from a construction or renovation project, Starr has dumpsters at the sizes you need for projects big and small. Being a local provider, we deal with you personally and deliver whatever size dumpster you request, taking one less worry away from your waste removal.
Unlike many dumpster rental services, we charge by weight rather than dumpster size. Choose from our 11-yard, 12-yard, or 14-yard dumpsters; whatever size you think you'll need. Our 11-yard dumpsters are ideal for smaller home cleanouts, while our 14-yarders are great for larger construction projects. No need to try and cram everything in a smaller dumpster to save money…get a larger size at the same price!
ORDERING Dumpster Rental in Bridgeton NJ
Our Bridgeton NJ dumpster rental rates start at just $350 plus state sales tax per week (5-day rental) for two tons of waste; pay just $80 plus tax for each additional ton. If your project will only take a day or two, ask us about discounted rates for 48 hours or less.
If you want a family-based community-focused team to rely on for your dumpster rental needs, the big blue Starr is right for you. Anytime you need affordable and local dumpster rental in Bridgeton NJ, contact Starr Dumpster Rental. We'll bring out a dumpster for you when you need it and for a fair price.
Starr Dumper Rental Services is part of Starr General Contracting, founded by Charles F. Starr Sr. Charles Sr. ran the business successfully for nearly three decades. Today, Starr General Contracting and its divisions are run by his son, Charles F. Starr Jr. Charles continues in his father's tradition of quality workmanship and customer service that has made the business successful for over 25 years. For years, they've made the local namesake that accommodates contractor endeavors.
Dumpster rental is just one of the many services we provide. Starr General Contracting offers multiple other services for construction providers, including painting, drywall, plumbing and electrical services, septic services, and much more. You learn more about our company and services here, or visit us on Facebook here.
Note: Our dumpsters are durable enough to handle most any project, but we cannot allow certain types of materials. Restricted waste includes hazardous materials, asbestos, chemicals and pesticides, rubber tires, electronics and refrigerants. These types of restricted waste require a specialized service.